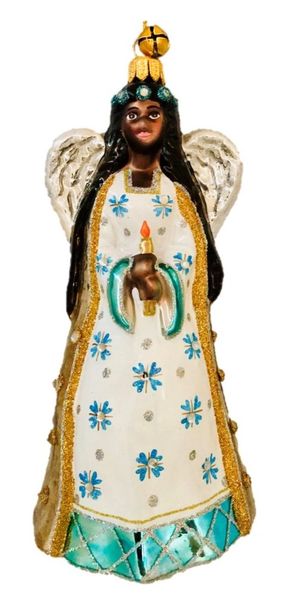 Aileen
This ornament comes from Jingle Nog (www.JingleNog.com), a company that makes lots of beautiful ornaments and creates a story for each ones.  Aileen is a limited edition sterling silver lined glass Christmas tree angel ornament.  This delicate and exquisite ornament is made in Poland where it is mouth blown and hand painted and glittered.  This keepsake angel ornament has coppery-brown skin and wears a blue and white floral dress and gold cloak trimmed with Czech crystals.  It is 6.5" tall.  The ornament is delivered inside of a lovely green and ivory gift box and is packed with lots and lots of padding. 
Aileen's Story
The glass angel ornament 'Aileen' includes a story in the gift box that is as follows:
"This dearest angel is named Aileen
A serene attendant sent from powers supreme,
light emanates from her being,
and is her name's meaning.
In a world ever changing,
she is a divine guardian,
who silently guides between the seen and unseen.
She has served all eras and ages,
well before Mary lay in the manger.
Ever benevolent,
all knowing,
and faithfully serving as assigned,
to all of humankind,
this beloved angel is always near,
but her golden wings and halo never appear.
Not one to intervene,
she will only shelter, steer and gently remind,
praying you keep your arms, hearths and hears open,
and are always kind."
Featured Products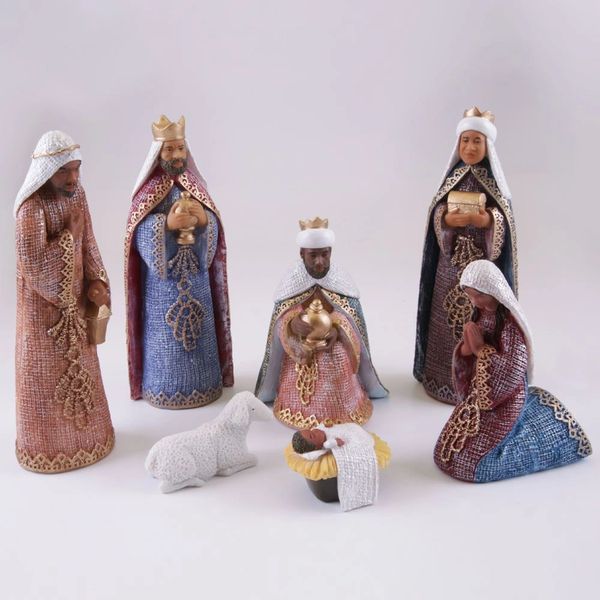 Nativity Set
$65.00