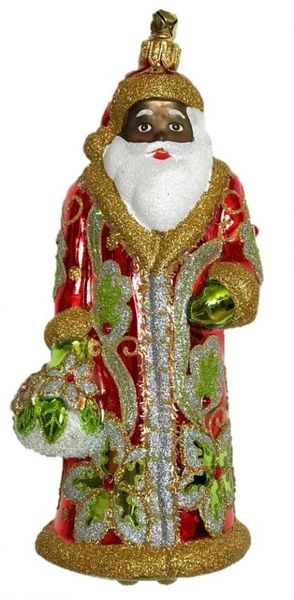 Claus de Flores
This ornament comes from Jingle Nog (www.JingleNog.com), a company that makes lots of beautiful ornaments and creates a story for each one.  Claus de Flores is a sterling silver lined glass brown-faced Santa Claus Christmas ornament.  This delicate and exquisite ornament is made in Poland where it is mouth blown and hand painted and glittered.  This keepsake holiday tree decoration is trimmed with Czech crystals and gold tassel.  It is 6" tall.  The ornament is delivered inside of a lovely green and ivory gift box and is packed with lots and lots of padding. 
Claus de Flores's Story
This sparkling monsieur is named Claus de Flores.  He is a quiet man that is noble and demure, qualities that are part, but not all of his allure, and like his coat of white his heart is pure.  He is a dazzling and dapper courier, dressed in a glittering coat designed by a polar couturier.  Holiday blooms he nurtures and treasures, which he daily picks, arranges and then delivers.  His flowers never require water and do not wither, they only gleam and shine beyond measure, and with care, will last forever.
Featured Products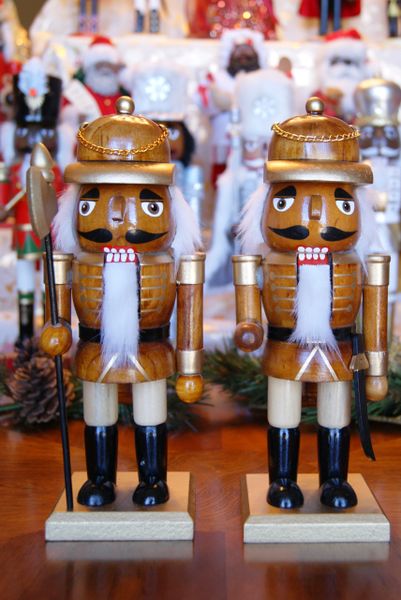 Set of Two Gold Soldiers
$30.00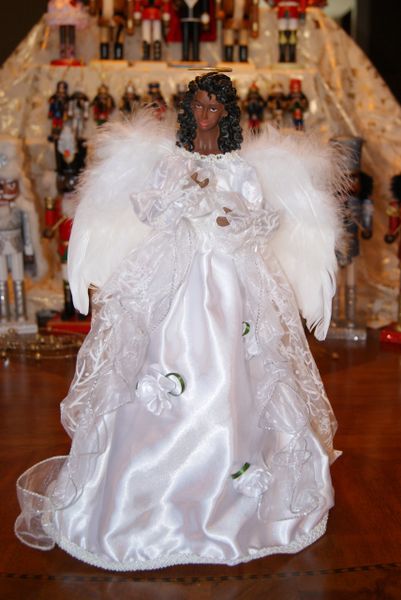 16" Wedding Dress Angel
$40.00