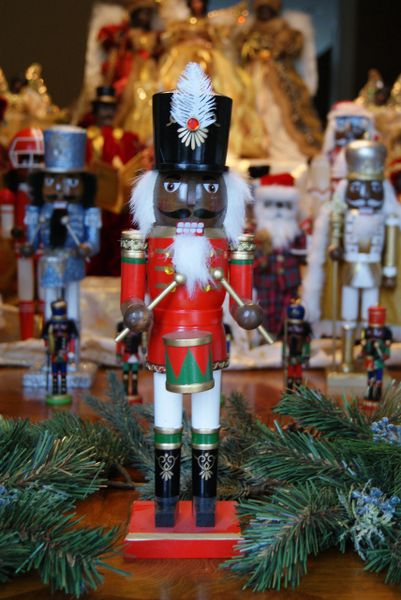 Red and Green Drummer
This 14" Red and Green Drummer is a traditional wooden nutcracker with a moving jaw.  The nutcracker's face and hands are stained with a brown wood stain leaving the beautiful wood grain visible.  

The Red and Green Drummer wears white pants tucked into black boots that are trimmed with gold.  His jacket is red with gold and green accents.  The jacket has gold rhinestones as buttons with gold and black thread on the epaulettes and bottom of the jacket.    The Drummer has white hair and his wooden hat is black with a gold accent and a white faux feather plume affixed with a red rhinestone.  The wooden red, green and gold drum is attached at the waist and he holds gold drumsticks in his hands.  He stands on a wooden square base that is painted red with gold trim.

Each nutcracker is hand-painted and therefore may vary some in appearance.  This is not the exact nutcracker you will receive however, each nutcracker basically looks the same.
Featured Products